Adventure and experience
|
Museum
The UK's Fantastic Book Lover 'State'
(Image credit: Richard Collett)
In 1977, Richard Booth declared himself "King" of Hay-on-Wye to save the Welsh border town from financial ruin. Now, the famous venue is celebrating its legacy.
O
On April 1, 1977, second-hand bookshop owner Richard Booth donned a homemade crown, marched through the streets of Hay-on-Wye and proclaimed himself "King of Hay" outside the gates of the Welsh town's Norman-era castle.
Holding a scepter made of brass plumbing and waving behind him the newly stitched green-and-white flag of the new "Kingdom of Hay", Booth informed the stunned residents that he had gained independence from the United Kingdom as "King". will promote tourism and revive the city's declining economy.
Booth issued passports, stamps and currency for his new "nation", selected his "Cabinet Ministers" after a few too many drinks at the local pub, and would later appoint his horse, Goldie, as Prime Minister. He granted citizenship and relevance to his supporters and admirers and would rule his self-proclaimed kingdom from the ramparts of Hay Castle until his death in 2019.
"Booth was a showman and a businessman," said local historian Marie Forde. The Castle Trust. "He saw any opportunity for fame. The Declaration of Independence was part of that passion for fame, his eccentric and iconoclastic streak, and his love of attention."
A bookseller's daring bid for freedom revives the fortunes of an ailing town. Acting as Booth's campaigner in the 1970s and becoming Hay's "Minister of Technology", Dr. "A lot of small towns were going down at the time," explained Reg Clarke. "Small Welsh towns are declining everywhere. People in rural areas will get an education, but then they'll move out and find jobs elsewhere". Booth's marketing ploy brought an influx of curious tourists and bibliophiles to Hay-on-Wye, which led to a flourishing second-hand book market. With a population of just 1,500, the town is home to over 20 bookshops and hosts the United Kingdom's largest literary event, the annual Festival there.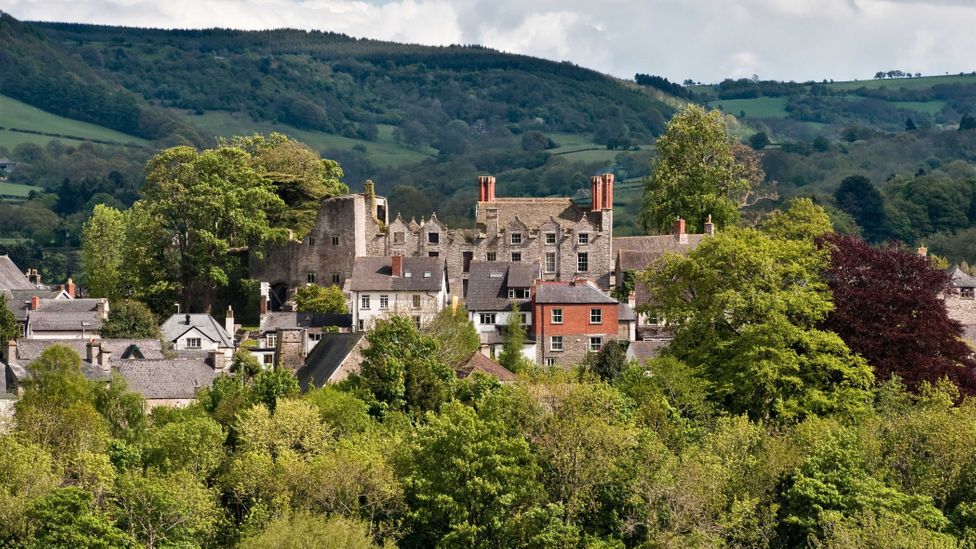 Richard Booth proclaims himself king of a Welsh border town on 1 April 1977 (Credit: Alex Ramsay/Alamy)
Forty-five years after his Declaration of Independence, Booth's crumbling mansion – where he lived and ruled – Converted into a museum By The Castle Trust. I found myself in Hay-on-Wye on the museum's opening day in May 2022 as the castle opened to the public for the first time in its 900-year history.
The castle's 12th-century Norman keep, half-fallen, rises on a grassy knoll in the center of the town. In the castle's old moat, I was absorbed by the shelves of novels, histories, travelogues, classics, murder mysteries in the outdoor "Honesty Bookshop" (where each book costs £1 and the money is paid in an honest box). Biographies, cookbooks and more.
The outdoor space of The Honesty Bookshop doubled as a street food market in the middle of Hay Festival, and festival-goers chowed down on falafel and tacos while perusing their latest purchases in the shadow of Hay Castle. There were more pop-up food stands and market stalls in the surrounding streets, while the main street in front of the castle was lined with second-hand bookshops, antique shops and a charming map shop selling cartographic oddities.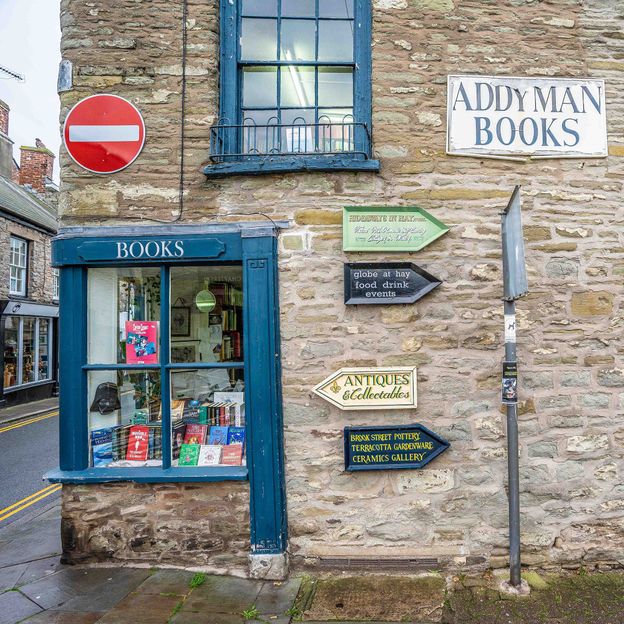 The town is home to some 20-plus bookstores and hosts an annual Hay Festival (Credit: Richard Collett)
From the "Crow's Nest" viewing platform at the top of the castle tower, I watched the River Wye meander through the Welsh countryside to the west, while to the south, the Black Mountains formed England's dramatic border. An information board informed me that these were "The Welsh Marches", a lawless borderland between England and Wales that was plagued by conflict and ruled by rogue "Marcher Lords" through the Anglo-Saxon, Norman, Medieval and Tudor eras.
Booth was something of a rogue Marcher Lord in modern guise, and Hay-on-Wye's location on this obscure border no doubt fueled the desire for autonomy. "I like to think that Hay-on-Wye has its own identity," Ford told me later. "It has spent a long time without being Welsh or English and is still known as a border town instead."
Born in 1938, the man who would become king moved to a rural estate near Hay-on-Wye as a young man. In his autobiography Dr. My kingdom of books (Written by Booth and his stepdaughter, Lucia Stuart), Booth explained how he was never destined to succeed in the financial career his parents had set him up for in London. Instead, his passion for books led him into the second-hand book trade and he opened Hay-on-Wye's first bookstore in 1962 after purchasing an old fire station.
In 1964, Booth bought the castle on an impulse when it came on the market, renovating the historic building into a bookstore, residence, and venue for many of his parties. He then took over the town's old Agricultural Hall – which remains "Richard Booth's bookstore"To this day – and until 1978, the store was recorded in the Guinness Book of Records as the world's largest second-hand bookshop, stocking more than a million books at one time.
"I don't think Richard was interested in books before," Forde said. "He saw a business opportunity and took it. He timed the books very well, because many libraries were getting rid of their books at that time. It meant he had stock very cheaply and could stack them high."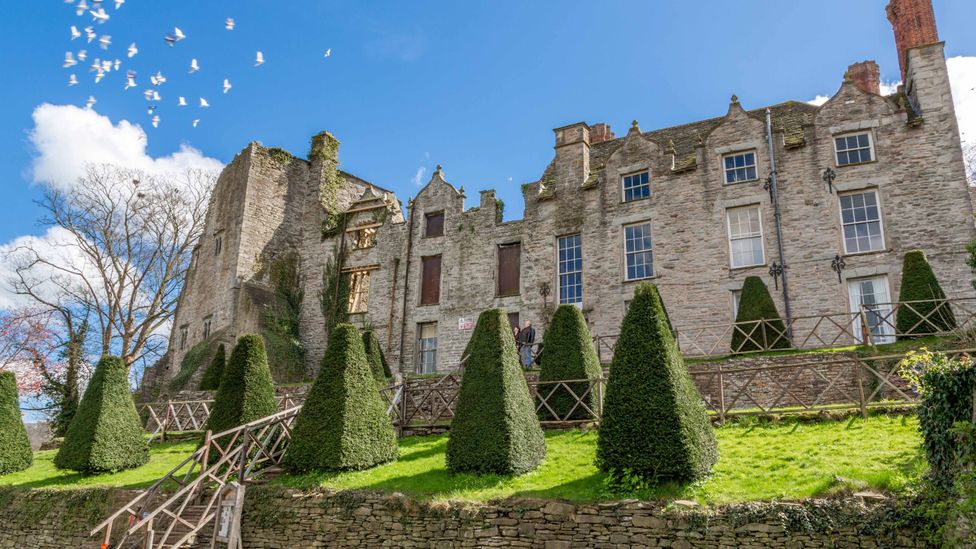 The castle was recently opened to the public for the first time in its 900-year history (Credit: Adrian Seal/Alamy)
By 1976, Hay-on-Wye was marketed by the Welsh Tourism Board as the world's first "Town of Books", as bookshops sprung up on every street corner. "Booth owns branches and stores all over the city," Clark said. "Many people came here to work for Richard and he changed the diaspora and nature of the city. Many of the local people he trained went on to set up shop on their own."
But as Clark explained, the economic reality was difficult. "His main problem was lack of funds. With second-hand book shops, things were always swinging from one disaster to another. That's just the nature of that kind of business." Growing disillusioned, Booth believed that government policies were causing rural markets to abandon the city economy in favor of new and larger supermarkets and out-of-town shopping centers.
As Booth's personal finances became increasingly fragile, he decided it was time for drastic action, so in 1977, Booth told a visiting journalist he met in a pub, "It's going to be independence from Britain!".
"I shall be 'Richard Coeur de Livre,'" Booth wrote, "an emperor with more pages than most."
1 April 1977 was an unusual day in Hay-on-Wye. Cannon fire from Micronation's "gunboat" (actually, a small oar-powered dinghy on the River Wye) marks the Declaration of Independence; The flag was unveiled in front of the Castle; And Booth was crowned "King of Hay" as the new national anthem played.
The announcement may have been made on April Fool's Day, but as Forde told me, the political reasons behind the stunt were serious. "Personally, I don't think Booth wanted to be king in any literal sense," she explained. "I would say that he wanted to be king in the sense that he had to be heard and taken seriously because he had strong views about how a rural economy could survive in the second half of the 20th century."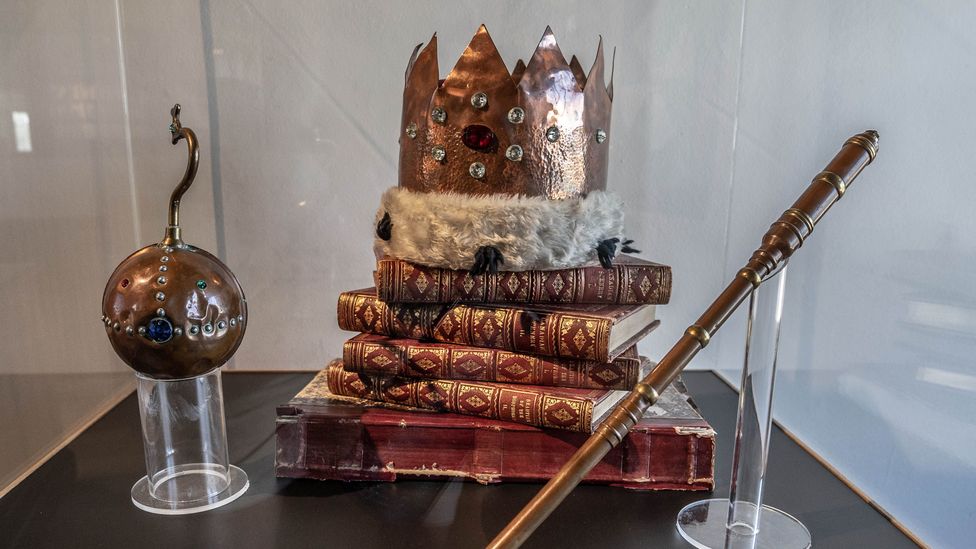 Richard Booth's Crown Jewels are on display at Hay Castle, along with the Independence Flag and other Kingdom of Hay memorabilia (Credit: Richard Collett)
After visiting Booth's former home, now a museum, I began exploring the newly opened galleries devoted to the castle's centuries-old history. I was instantly drawn to the upstairs room which houses the "Richard Booth Collection".
Booth's crown jewels are protected by a glass cabinet; The original independence flag hangs on the wall; And on display are stamps, currency and passports of the Kingdom of Saudi Arabia. Although the United Kingdom never recognized Booth's bid for independence, he received ambassadors and support from other minor nations, including Principality of Hut RiverA self-proclaimed micronation in Western Australia, and the Independent Independent Republic of FreestoniaMicroNation was formed (also in 1977) to protest local housing demolitions in London.
Reporters and the press flocked to the Kingdom of Hay and the publicity boosted the economy of Hay-on-Wye as crowds of tourists flocked to visit the quaint "Town of Books" ruled by a king. But not everyone in Hay-on-Wye was happy with the booth. "When he declared independence, it didn't necessarily go down well with all the natives," Clark said. "Booth was a darling of the Wales tourist board, but he somehow fell out with them. The town council issued a notice that they had nothing to do with the Kingdom, and that Hay-on-Wye was an integral part of the United Kingdom."
In 1988, Booth fought the newly founded Hay Festival, believing that the festival's focus on newly published books was an insult to the city's second-hand bookshops. Even without the Grass King's initial blessing, the Grass Festival was a success. It is now the largest literary event of its kind in the UK and will return in 2022 after a Covid-19 hiatus with around 500 events over two weeks, with 600 speakers and 200,000 ticket sales.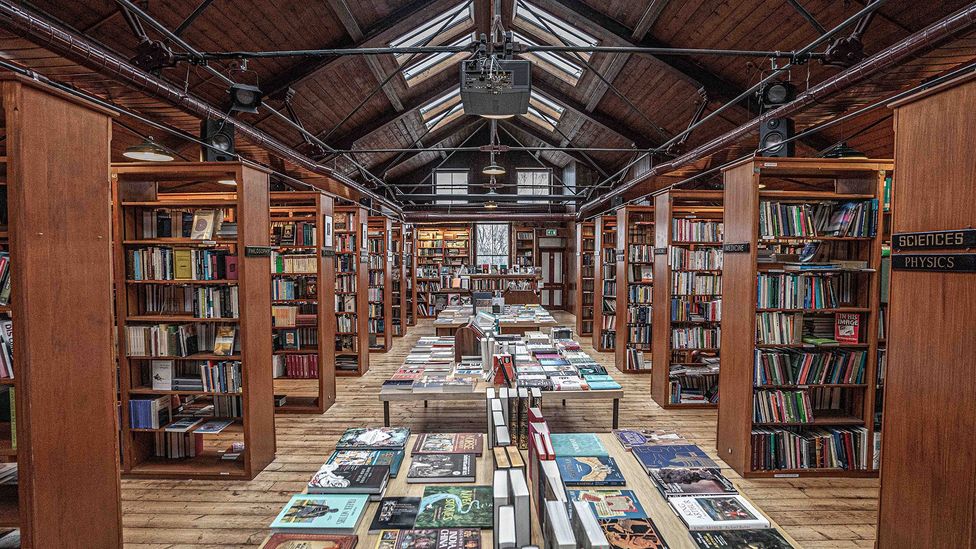 By 1978, Richard Booth's Bookshop was the largest second-hand bookshop in the world (Credit: Richard Collett)
Booth passed away on August 20, 2019, but the "grass empire" lives on. "There is a lineage for the king," said Fforde. "In 2018, Richard Booth announced his successor and Olly Cook is his successor. The city still has the flag and there have been several Independence weekends – although covid means we don't have one from 2019."
Booth's true legacy is not a flag or a state, but a thriving, book-loving town. "His stepdaughter Lucia once told me he was one of the last great British eccentrics," Clarke said. "As his friend, I knew Richard loved it and wanted the best for it. Not because it was his kingdom, but because he loved the community. He did so much for Hay and he brought it out of obscurity."
—
Join over three million BBC Travel fans by liking us FacebookOr follow us Twitter And Instagram.
If you liked this story, Sign up to the weekly bbc.com Features newsletter Called "Essential List". BBC Future, a curated selection of stories from Culture, Worklife and Travel, delivered to your inbox every Friday.